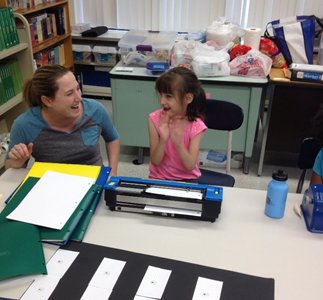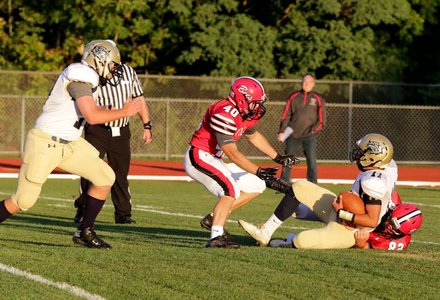 Sat

Sun

Mon

Tue

Wed

Latest stories
The kids are back in school and parents are still trying to recover from summer but the world rolls on. Get ready for the more serious seasons with classes that will help you master new skills or conquer new hobbies or just come on down for our colorful September art display or to enjoy some live music or classic films. Whatever you need to make your life a bit better from email basics to a flu shot clinic, the library is here to lend a hand.

The National Federation of the Blind (NFB) of New York, the Syracuse community and the Baldwinsville Central School District effectively made history this summer. The three organizations teamed up to host the first NFB Braille Enrichment for Literacy and Learning (BELL) in New York state. The successful inception of the program in 2014 lays the groundwork for the program to become an annual opportunity for blind children within traveling distance of Syracuse and also provides a framework of success so that the program might be offered in strategic locations in the future to serve blind children across the state.
During the 2012 season, Rep. Dan Maffei participated in just two debate. He's upping that number this time around. The Democratic incumbent running for the 24th Congressional District has announced a series of debates and joint appearances with Republican challenger John Katko. Four debates will be televised by local stations, and two will be broadcast on public radio.

Second-quarter surge delivers B'ville past Wildcats
Though it wasn't like the Baldwinsville football team had disappeared from the short list of serious Section III Class AA title contenders, some had wondered if it had what it took to climb back to the top of the ladder. They may have stopped wondering after Friday night's game at Pelcher-Arcaro Stadium, where the Bees, making all the crucial plays on both sides of the ball, put West Genesee away with 30 first-half points, eventually earning a 36-7 victory over the Wildcats.
Rep. Dan Maffei (D-Syracuse) announced last week that he had earned the endorsement of local public safety officials in his campaign to keep his seat in the 24th Congressional District. Several first responders joined Maffei at a press conference to announce their support for the incumbent, who is running against former federal prosecutor John Katko of Camillus.

Enjoy a combination of German culture and great family entertainment during the 2014 Baldwinsville Oktoberfest, which returns this Friday and Saturday, Sept. 12 and 13, to Baldwin Canal Square in the heart of the village.
Wednesday, Sept. 3 wasn't just the first day of classes for the Baldwinsville Central School District — it was the beginning of full-day kindergarten classes, a new computer science program and incoming superintendent Dr. David Hamilton's career at Baldwinsville.
B'ville Diner owner Jim Orlando is seeking a new site to set off fireworks at one of his classic car shows next year, but he will have to wait a bit longer for an answer from the village of Baldwinsville's Board of Trustees. Orlando appeared in front of the board Sept. 4 to request the use of Baldwin Canal Square July 16, 2015, but the board would only grant him a "soft hold" — a promise not to book any other event that day. The board cited coming changes to the village's park reservation system for tabling Orlando's request. "I don't think it would be prudent to make a commitment when everything could be changed," said Deputy Mayor Bruce Stebbins.

Skipworth bursts for 284 yards, two long TD runs
What makes the Baldwinsville football team so difficult to face is that, regardless of who's up front or who is running the ball, the job gets done – and done quite well.

Since May 23, no one has seen or heard from Edward Weslowski. Now, in hopes of bringing the Clay man home, his family is offering a reward for information leading to his whereabouts.

Cat rescuers, animal advocates and veterinarians, along with other animal lovers, will gather on Tuesday, Sept. 9, at the Genesee Grand Hotel in Syracuse to discuss issues surrounding cats as part of the Humane Society of the United States' symposium, "Rethiniking the Cat." The free, day-long event, co-sponsored by PetSmart Charities, will provide training in two tracks: "adoptable" cats (i.e., shelter cats and rescues) and "community" cats (the feral cat population).
Republican Congressional candidate John Katko is fighting back against accusations of wrongdoing relating to a gun crime that took place in April of 2000. According to the Syracuse Post-Standard, Katko purchased a personal firearm to protect the safety of his family in late 1999. On April 3, 2000, Katko and his wife attended an event at St. Mark's Episcopal Church on the city's west side. He left the gun, loaded, out of view in his car. While Katko was inside the church, someone broke into his car and stole a duffel bag, which contained the gun.

Chengerians to feature 'Where's Olaf' adventure for 40th anniversary
Chengerians in Fulton is celebrating its 40th anniversary this year by bringing back what customers have missed for 10 years: hayrides. "I asked [my customers], 'What do you want from me this year?' They all said, 'Bring your hayrides back!''" said owner Bob Chengerian. "So I approached [Terri Eggert] to bring them back ..."

New school superintendent keeps it real
School Superintendent Dr. David Hamilton's office is an unassuming affair. A modest and tidy rectangular conference table is positioned at the center. A bookcase holding one laptop is pushed against a wall. A single row of ninth-grade student artwork lines the walls. There is no executive desk, no full-length windows, in fact, it's not even a corner office.