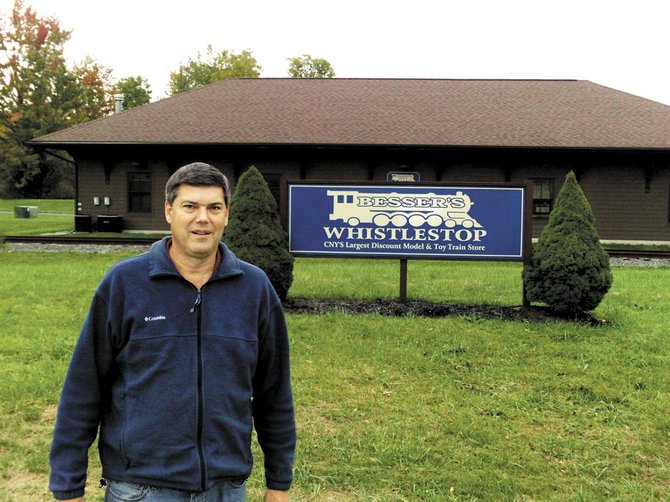 Baldwinsville — Trains are alive and well at Besser's Whistlestop.
An American tradition is the toy train running around the Christmas tree or little bright-eyed children staring in amazement at a new train layout on a table that Santa Claus had somehow found time to build while the kids were snugly tucked away in their beds.
There was nothing like coming down the stairs early Christmas morning to see an electric train and maybe even two running around or through a brightly lighted village whistle blowing and bell clanging.
This scene never ceases to dazzle young and old alike. Everyone from toddlers to senior citizens are frequent visitors to the store, which draws people from long distances to Besser's Whistlestop miniature train store in Baldwinsville. There are trains of all shapes, sizes and gauges to suit everyone's taste from the steam trains of yesteryear to the most modern replicas of today's real trains. The story also displays models from the tiny "N" gauge right up through the more popular HO, S, O 027 and G gauges in addition to a "Thomas the Tank Engine" display. For the first time this year, the store is carrying slot car sets.
Besser's is Central New York's largest discount model and train store. It is operated by Kevin and Mark Besser at 2731 Brundage Road, near the corner of Sixty Road, just north of the village.
There are about 3,000 square feet devoted to miniature trains and another 481 feed of operating layouts.
Centerpiece of the store is an HO scale model of the New York Central's Buffalo Terminal which Kevin created, including the dozen of tracks that once served it. The model is 32 feet by 13 feet.
Items not seen in the store can be special ordered. Besser's has numerous catalogues for shoppers to look at and the store carries model trains made by most manufacturers.
Hours are from 10 a.m. to 6 p.m. Monday through Thursday; from 10 a.m. to 6 p.m. on Saturday. Call 638-6448 for further information.
Vote on this Story by clicking on the Icon