Baldwinsville — For the last 21 years, Baldwinsville native John Nostrant has taught and guided the boys of The Haverford School in Pennsylvania.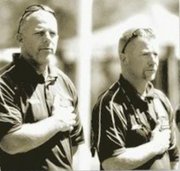 As Haverford School's athletic director for 15 years and the head lacrosse coach, Nostrant was the leader of an undefeated team during the 2011 season, a team that lost 17 seniors when they graduated last year. Nostrant said 12 of those young men went on to play for Division I schools.
Along with leading the team to a perfect 23-0 season, Nostrant was named the Philadelphia region's US Lacrosse Coach of the Year for 2011 by the Eastern Pennsylvania Scholastic Lacrosse Association.
There's a lot more going on for the coach than his recognition from the EPSLA, though. The Haverford School, a nonsectarian college prep school for boys from junior kindergarten through grade 12, recently completed a building project on the campus and named it in Nostrant's honor.
"It's an addition to our development office and it overlooks our lacrosse field," Nostrant said. "It's beautiful."
Nostrant said he believes the timing was great to do a little fundraising, but the fact the lacrosse team had such a stellar season — going undefeated for the 2010-11 season — may have attributed to the school administration naming the pavilion after him.
The space, loaded with high tech equipment, is essentially a conference area to be used for parent and staff meetings, Nostrant said. It will also be used for team gatherings after games.
Nostrant's schedule is packed each season with practice and regular season games from the end of February through May, but in the last few years he added to his load.
In its fourth year, Checking for Cancer, an annual lacrosse invitational tournament, has raised more than $100,000 for cancer research.
"I'm four years out of prostate cancer," Nostrant said, adding that the support from "the parent community has been great."
(Continued on Next Page)
Prev Next
Vote on this Story by clicking on the Icon