Baldwinsville — At the tender age of 26, Kimberly Sharfstein passed away at home in Baldwinsville.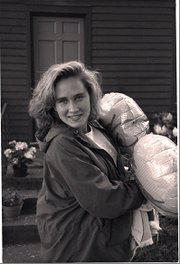 Kimberly fought and ultimately lost her battle with rhabdomyosarcoma, a rare form of pediatric cancer, on July 23, 1996. When diagnosed in 1992 just two weeks after graduating from Denison University, the cancer, which originated in her sinus, had already progressed to Stage 3.
"She was intelligent, outspoken, witty, warm, sensitive and caring. Her family and friends were of the utmost importance to her," said Cindy Sharfstein, Kimberly's mom.
As a psychology major in college, with a minor in Spanish, Cindy remembers her daughter as a lover of knowledge.
"She loved learning," Cindy said.
Born Jan. 9,1970 in Potsdam, Kimberly attended Durgee Junior High and C.W. Baker High schools in Baldwinsville, where she graduated in 1988. In college, she was a member of the Phi Beta Kappa honor society and graduated summa cum laude.
"Kimberly was quite an amazing woman," recalled her father, Jerry Sharfstein.
The influence she had on people was insurmountable and has continued to touch the lives of those who knew her, and many more that didn't.
For the last 12 years, the family has held a memorial walk — Kim's Walk of Hope — in Rockport, Mass., with all proceeds donated to the Ronald McDonald House in Syracuse and Boston.
"On the one-year anniversary of Kim's death, on July 23, 1997, we visited our middle daughter, Alyssa, who at that time lived in Boston," Jerry said. "We wanted to spend the day with her."
Alyssa took her parents to Rockport, a place she felt would help her family heal.
"It was a beautiful summer day and while walking down Bearskin Neck we noticed a shop named Kimberly's of Rockport," Jerry said. "Six months later we had purchased a home in Rockport."
(Continued on Next Page)
Prev Next
Vote on this Story by clicking on the Icon