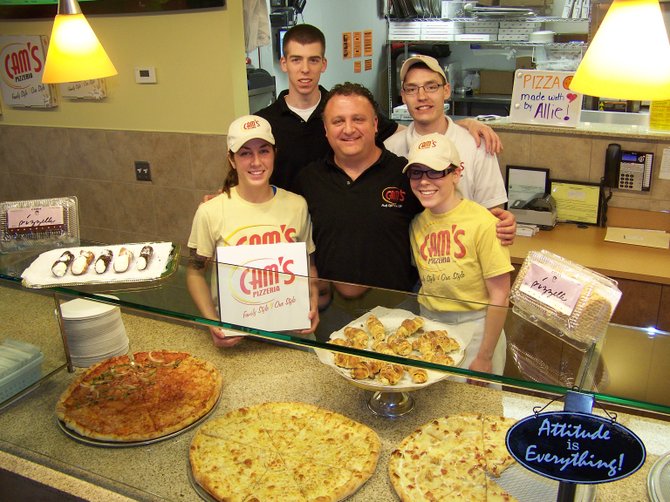 Baldwinsville — Cam's Pizzeria aims to bring "pizza people together over one great pie."
Now they are doing it in Baldwinsville. The franchise opened facility number 15 on March 6 at the former Doug's Fish Fry at Moyers Corners (corner of routes 31 and 57).
"Pizza is our forte, our backbone," Owner Tony Calascibetta said about the pizzeria's specialty.
He and his brother, Cam, the franchise's namesake, have been making pizzas for decades opening their first Cam's Pizzeria on July 2, 1980 in Geneva. Since then, they've expanded into Western New York, the North Country and Central New York including facilities in Camillus and DeWitt.
According to Cam's mission statement, quality is never compromised and each hand-made pizza is signed by a fellow pizza fanatic (a.k.a. Cam's pizza makers). On March 29, Allie Benz, of Liverpool, was making "pizza with love" for customers.
Pizza isn't all that is on the menu. In addition to wings, stuffed pizzas, pasta dinners and sandwiches, Cam's also offers fish, shrimp and clam dinners as an ode to the building's former occupant. "It's on our menu to keep the flavor," Tony said.
And for dessert, there is Cam's signature cannoli, filled fresh everyday.
Managers Shayne Roach and Steve Richmond, who have been with the company for six years and are both natives of Liverpool, said Cam's is about the overall experience.
"It's not just the food, it's the atmosphere," Steve said. "It's the people behind the counter."
This was a sentiment echoed by Tony.
"With the help that I have, it was a no-brainer opening a location in Baldwinsville," he said. "We're fanatic about people and pizza, and not just the customers – it's the team we have, they are great people."
"We've also got the best looking drivers around," Shane said, noting the delivery drivers wear bowties.
(Continued on Next Page)
Prev Next
Vote on this Story by clicking on the Icon