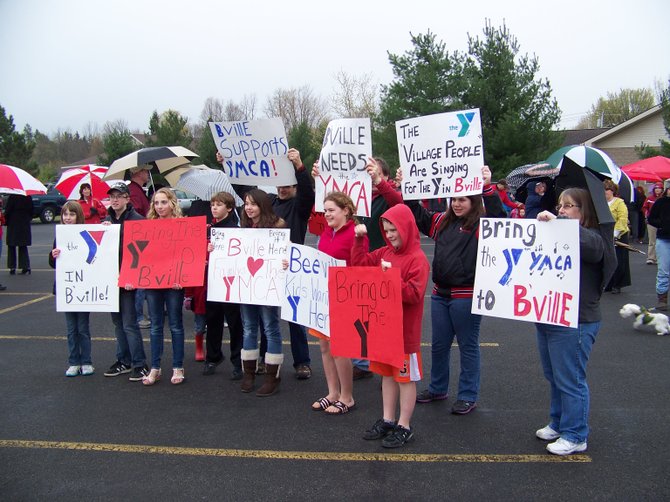 Baldwinsville — Despite the cold rain, hundreds turned out to show support for a YMCA at Smokey Hollow Plaza.
A grassroots effort started by the village board, the rally aimed to gather residents to the site, which is one of three the Greater Baldwinsville YMCA Board of Managers is considering for the proposed 98,000 square foot facility, to show officials how much residents want the Y to be built within the village.
The other two options for a Y are at Drakes Landing in Radisson, which has caused a lot of controversy, and along the southern edge of the Timber Banks development on the Cold Springs Peninsula. The Baldwinsville YMCA Board of Managers is scheduled to make a site decision on Thursday morning during a meeting at the Baldwinsville Public Library.
Despite the difficult choice to be made, Y officials were delighted to see the support from village residents.
"Thank you for welcoming the Y," said Elizabeth Quilter, chief development officer for the Greater Syracuse YMCA.
Residents began congregating at 6 p.m.in the parking lot of Smokey Hollow Plaza. Tops Friendly Markets donated hot dogs, buns and condiments to the rally, which were cooked on site and given to supporters. Many also sported red, as a symbol of Baldwinsville, as well as signs stating their support of the Y including, "Bring the Y to B'ville" and "The 'Village People' are singing for the Y in B'ville."
Vote on this Story by clicking on the Icon