Baldwinsville — This week marks National Volunteer Week, which recognizes the efforts of volunteers and urges others to get out and volunteer in their communities.
Photo Gallery
Ode to B'ville Volunteers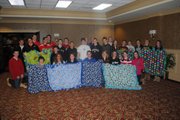 National Volunteer Week is about inspiring, recognizing and encouraging people to seek out imaginative ways to engage in their communities. Millions of people give their time, talent and energy to help strengthen communities all around the world. At the heart of volunteering is the decision to make a difference. Here in Baldwinsville there is no shortage of people doing just that; people who have committed themselves to taking action and solving problems in their community. National Volunteer Week is a celebration of all the ordinary people who accomplish extraordinary things through community service. So here's our salute to Baldwinsville's Extraordinary Volunteers!
Here in Baldwinsville we have thousands of volunteers to celebrate. From individuals who commit their time to numerous causes to those who can only spare an hour here and there, they are all making an incredible difference in our community.
What would Baldwinsville be like without our volunteers?
Homebound individuals would suffer without Meals on Wheels, a volunteer-based program delivering meals to homes; high school seniors would be left with risky choices without Keep the Ball Rolling, a volunteer-organized event designed to keep students safe; residents might have to forego necessary medical equipment without Female Charitable Society, a medical equipment loan closet run by volunteers; the community would lose entertainment opportunities made possible thanks to volunteer-run organizations like the Baldwinsville Theatre Guild; and a YMCA wouldn't even be a blip on the Greater Baldwinsville map without the dedication of the volunteer-run board of managers.
This is just the tip of the iceberg when considering the dozens of programs made possible by Baldwinsville volunteers. Donating their time and their care without expectation of monetary reward, volunteers are on the front lines of all our community services. And there is always need for more helping hands.
If you are interested in learning more about emergency service organizations, the Baldwinsville Volunteer Fire Company is hosting an open house from 10 a.m. to 2 p.m. this Saturday. Or, if you would like to learn about other volunteer opportunities, visit bvillevolunteers.org.
Join the lifeblood of our schools, community groups and emergency service organizations and become a volunteer.
Vote on this Story by clicking on the Icon