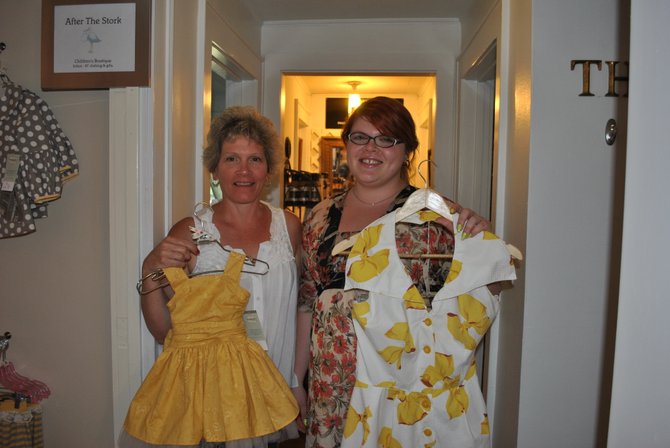 Baldwinsville — Cottage Designs is a co-op that offers many different shopping opportunities to customers.
Two of the newest additions share an interesting story – a mother daughter duo that has opened up two shops next to each other. Bridgette Plessas and her daughter, Emily Plessas, each have shops that offer two different types of clothing.
The story starts with Emily who has a passion for clothing. Her shop, Thrifty, located on the upper level of Cottage Designs, offers shoppers the best of thrift store offerings. Emily searches the racks at thrift stores about twice a week, looking for the best second hand designer wear available – some items even still have the original store tags on them. After cleaning and ironing the items she brings them into the shop.
"I've always been a huge thrift shopper, I love clothes and the only way I can afford to have the quantity I want is to buy them at thrift stores," Emily said. "When shopping, I couldn't always find the right size … I want customers to remember that even if they don't find something in their size, I bring in new stock in at least once a week."
Bridgette was helping with her daughter's business when Emily suggested she open a space of her own.
"At first I didn't know what kind of shop to open, but after a friend suggested children's clothing I knew I could do that," Bridgette said.
Known as After the Stork, Bridgette's shop offers new, high end children's and toddlers' clothing that isn't available anywhere else in the area.
"I wanted this to be a place where grandmothers, godparents, aunts, [and more] could come to get something special for the special child, or children, in their lives," Bridgette said.
Both of these new shops offer unique styles that the community would be hard pressed to find elsewhere. Check them out from 11 a.m. to 5 p.m. Tuesday through Saturday at Cottage Designs, 25 Syracuse St., Baldwinsville.
Vote on this Story by clicking on the Icon