Baldwinsville — The unmistakable sound of hooves on pavement filled the small village of Baldwinsville Friday July 13 as the Budweiser Clydesdales treated the community to a rare appearance.
The world-famous, eight-horse hitch was greeted by more than 100 people as it made its way from a hitching station on Grove Street to Route 48 and traveled north into town where the team of horses stopped to make a handful of deliveries at the local watering holes.
Photo Gallery
Snapshots from Seneca River Days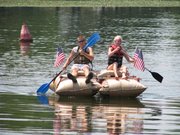 July 13 and 14 marked the annual Seneca River Days celebration in Baldwinsville. People came from all over for the two-day event, which featured the Duck Race, Anything that Floats race, music, entertainment, and more.
For former brewery employee John Hancock, the event was so rare and exciting he came into town from the city for an opportunity to see the horses and take photos of them. Armed with his camera, Hancock anxiously awaited the hitch's arrival on Denio Street, where the public was granted the chance to take photos with the striking creatures.
Hancock, who worked at the brewery from 1983 to 1993, taking the early buyout, said he felt it was about time the hitch be welcomed back to Baldwinsville.
The last time the entire Clydesdale hitch was in the village was for the brewery's opening in 1983. In July 2008, the hitch was in nearby Oswego for the Harborfest weekend.
Making its first stop at Sammy Malone's on Syracuse Street, the hitch was welcomed by patrons and passersby.
"The last time they came around I was just little," said Tim MacConaghy, who recently started working at the brewery.
The event is particularly exciting because he doesn't remember the first time the hitch came to town and was pleased to see the Budweiser tradition carried on. MacConaghy is a second-generation brewery employee, as his father was working at the plant when it opened in the 1980s.
The hitch's short visit to kick off the Seneca River Days events neared its end with the team traveling onto Paper Mill Island where Anheuser-Busch Baldwinsville Brewery General Manager Steve McCormick presented Baldwinsville Mayor Joseph Saraceni with a commemorative Clydesdale horseshoe plaque.
(Continued on Next Page)
Prev Next
Vote on this Story by clicking on the Icon