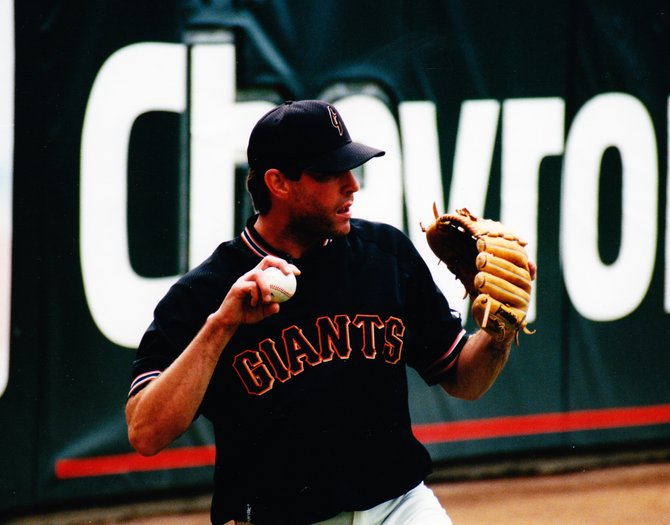 Baldwinsville — Baldwinsville resident John Johnstone treasures many memories of his eight-year Major League Baseball career. For instance, as a member of the San Francisco Giants in 2000, he recorded the first win ever for the home team at its new downtown ballpark, Pac Bell Park (now known as AT&T Park).
He also hurled for the Giants in the late-1990s at historic Candlestick Park.
"But I really loved playing at Wrigley Field in Chicago," he said recently. "You can really feel the baseball history there."
On June 27, Johnstone was named as one of eight new inductees into the Greater Syracuse Sports Hall of Fame. He was introduced at the Syracuse Sports HOF Showcase at Drivers' Village in Cicero by Syracuse Chiefs General Manager John Simone, who noted that Johnstone, 43, looks too young to be a hall of famer.
A native of nearby Liverpool, Johnstone excelled at basketball as a freshman and sophomore at Liverpool High School where his father coached hoops.
"But my dad knew I had baseball talent," Johnstone said.
He transferred to Bishop Ludden High School and later played baseball for the Onondaga Community College Lazers.
The New York Mets drafted Johnstone in the 20th round of the 1987 amateur draft. After he won 15 games and posted a stingy earned-run average of 2.24 in 1990, he was a named a Florida State League All-Star.
He was selected by the Florida Marlins in the National League expansion draft before spending most of eight seasons with the Marlins, Houston Astros, Oakland Athletics and the Giants. A tall right-handed reliever, Johnstone's best seasons in the big leagues were with San Francisco in 1998 and '99 when he pitched in 132 games, winning 10 and saving three while registering an impressive ERA of 2.83.
After a back injury, Johnstone retired from baseball in 2000 and coached baseball for a few years at Baldwinsville's Baker High School. He lives in B'ville with his wife, Lori, and their 3-year-old daughter, Ava.
The Syracuse Sports HOF Class of 2012 also includes golfer Sally Dee, basketball coach Pat Donnelly, multi-sport star Dick Easterly, scholastic basketball player Bob Kallfelz, lacrosse star Brad Kotz, equestrian Beezie Madden and the late lacrosse coach Royce Newell.
The 26th Annual Greater Syracuse Sports HOF Dinner and Induction Ceremony will take place at 7 p.m. on Oct. 15, at Drumlins Country Club in Syracuse. With the eight new inductees, a total of 198 men and women will have been inducted into the HOF since the first induction ceremony in 1987; syracusehalloffame.com/.
Vote on this Story by clicking on the Icon