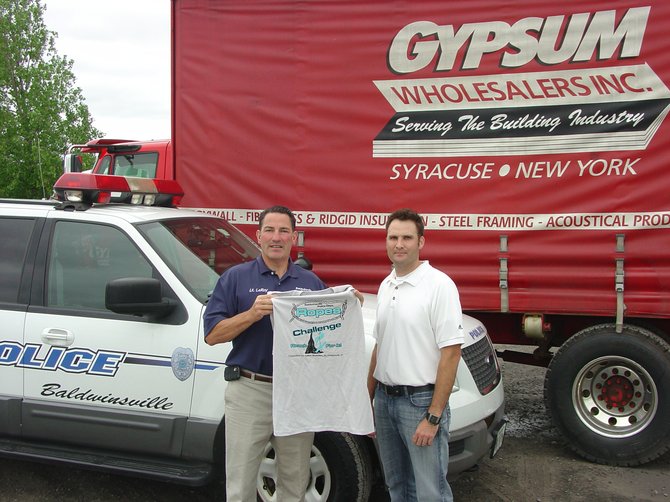 Baldwinsville — This will be the 16th year the Baldwinsville Police will offer our local youth a one-day community service program called the Ropes Challenge.
Scheduled for Thursday, June 28, this program is held at the Baldwinsville High School facility where they have their own Ropes Challenge Course. The school's advisors guide the participants through team building exercises then challenge the individuals on the high ropes course.
The youths will attempt to overcome individual fears through participating in challenging obstacles that will build mutual trust and self esteem. Lunches will be provided for all involved. The group will then be bused to Community Park where their families are invited for an outdoor Mexican-themed dinner. Afterwards, there will be a friendly kick ball team competition provided by the Van Buren Parks and Recreation staff.
As in past years, John Wight, the owner of Gypsum Wholesales Ltd. has made the program possible by fully sponsoring the event. Wight shows his company's commitment to the Baldwinsville community and its youth by financially supporting this highly attended event.

There is no cost to the participants or their families and all food, beverages and event T-shirts will be supplied. All that is asked of the youth is a willingness to participate with the possibility that they might learn something new about themselves, the other participants or the police officers that are involved.
Sign up for "Ropes 2012 Challenge" by calling the Baldwinsville Police Department from 8 a.m. to 4 p.m. at 635-6808. If there are any questions, please ask for Lt. Thomas LeRoy, Chief Michael Lefancheck or email the department at police@baldwinsville.org. The program is available for both boys and girls from 13 to 18 years of age that attend school. There are a limited amount of spots available, so call now.
Vote on this Story by clicking on the Icon