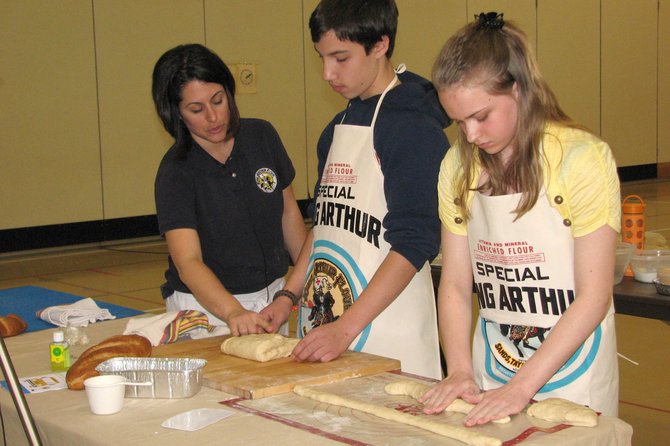 Baldwinsville — On a crusade to give young people the life-giving skill of home bread baking, The King Arthur Flour Company of Norwich, VT, traveled to Ray Middle School on May 1 to teach more than 500 seventh grade students to bake their own loaves of bread from scratch.
Sponsored by the school's Family and Consumer Sciences department, the demonstration taught students how to make King Arthur Flour's Traditional Hearth Bread recipe, a simple white bread recipe based on the centuries-old formula of flour, water and yeast.
Paula Gray, a baking educator from King Arthur, along with a few students, taught a lesson that students could really get their hands into –mixing ingredients, kneading the dough, punching it down and shaping it into loaves.
Then, of course, came the "homework."
Using flour, yeast and recipes donated by King Arthur Flour, each student baked two loaves of bread at home over the weekend. One loaf was for their own consumption and the other loaf, baked in disposable bread pans donated by the Ray PTA, was for school donation. On May 7, students brought the donated loaves to the Baldwinsville Community Food Pantry, Meals on Wheels, St. Mary's Human Development (all in Baldwinsville) and The Downtown Emergency Services, for distribution to people in need throughout our community.
"Human beings have been baking bread for some 10,000 years," said King Arthur Flour Chairman of the Boars, Frank Sands, "but these days, fewer people are baking at home, so the tradition isn't being handed down. We want to pass on this traditional life skill to the next generation, so they can nourish themselves with healthy home-baked bread for the rest of their lives."
King Arthur Flour, America's oldest flour company, founded in 1790, has reached more than 52,000 middle school students from the Northeast with its Life Skills Bread Baking Program. Sands believes the program has succeeded because students can see, feel and consume what they have learned.
(Continued on Next Page)
Prev Next
Vote on this Story by clicking on the Icon