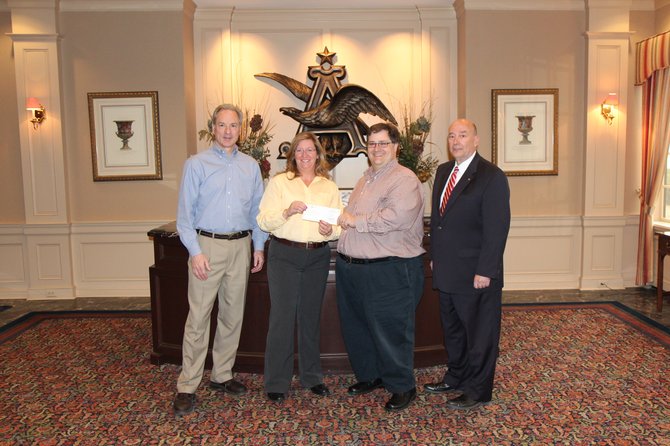 Baldwinsville — A longtime supporter of United Way, Anheuser-Busch presented the organization with a check last week for $50,000 towards their 2011-12 Community Campaign, a $15,000 increase from last year's contribution. This is the 12th consecutive year that both employee gifts and the corporate gift to United Way have increased. Anheuser–Busch has given $4.1 million to United Way nationwide.
"Anheuser-Busch and Baldwinsville brewery employees take great pride in sharing our resources to help our neighbors," said Baldwinsville brewery General Manager, Steve McCormick. "Our team is dedicated to supporting this community; and giving to the United Way is one of many ways that we can lend a helping hand."
Anheuser-Busch employees including Teamsters Local 1149 are involved in their internal United Way campaign in a variety of ways. From attending presentations given by speakers from United Way and funded agencies, to entering and taking first place in the chili category for United Way's annual Kickoff Cookoff event. In addition to participating in Kickoff Cookoff, McCormick and a team of runners, ran more than 13 miles from the brewery in Baldwinsville to the United Way office in downtown Syracuse for the annual Walk the Talk event to show their commitment to the campaign at its halfway point.
"Both the employees, through their individual contributions and Anheuser-Busch through their corporate giving, have a rich tradition of supporting United Way," says United Way President, Frank Lazarski. "We are very grateful to them for their willingness, year in and year out, to support the quality network of services that are vital to so many people of our community."
Many thanks to Anheuser-Busch and their dedicated employees for supporting United Way and the Central New York community.
Vote on this Story by clicking on the Icon