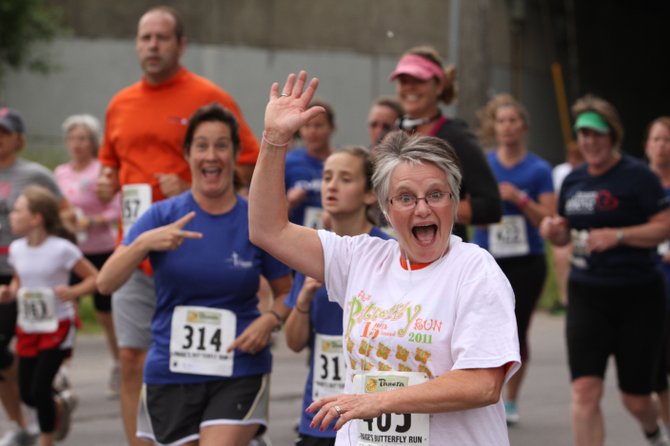 Baldwinsville — Runners get ready to fundraise – the 16th annual Paige's Butterfly Run returns next month and every penny raised will directly benefit Upstate Golisano Children's Hospital.
"Our corporate sponsorship does more than cover our event expenses, so 100 percent of the money brought to the event by participants will go to Upstate Golisano Children's Hospital," said Chris Arnold, who organizes the event.
And, using the hospital's advanced registration portal, Paige's Butterfly Run participants can now exponentially increase donations by registering online through the system, which also tracks everyone's fundraising efforts.
"Our biggest opportunity for growth is the individual fundraiser obtaining sponsorships. [The new registration format] allows participants to create their own website and own email for more effective fundraising for individuals and teams," Arnold said adding this year's fundraising goal is $200,000. "We hope to have 2,000 participants."
The event also has a new user-friendly website, which allows visitors to easily find a way to get involved whether through running, volunteering, donating or sponsoring a runner.
"We wanted to streamline the experience," Arnold said.
Held in memory of Arnold's daughter, Paige Yeomans Arnold, an 8-year-old Palmer Elementary student who succumbed to cancer in 1994, the 16th annual event returns to the Federal Building Plaza in Syracuse Saturday, June 2, in conjunction with the Taste of Syracuse.
A popular event for both the Baldwinsville community and central New York residents, Paige's Butterfly Run offers several components including a 5K run (starts at 9 a.m.), a 3K Fun Run/Walk (starts at 10 a.m.), the 40-foot Caterpillar Crawl (starts at 9:45 a.m.) and the 5K Centipede Division (starts at 9 a.m.).
As usual, entertainment, cheerleaders and water stops will line the 5K and 3K courses (the 3K course has been rerouted this year for a more residential feel). The 5K Centipede Division, which consists of five-person teams of both male and female contestants, tied together for the duration of the race, also returns for its fourth year.
(Continued on Next Page)
Prev Next
Vote on this Story by clicking on the Icon