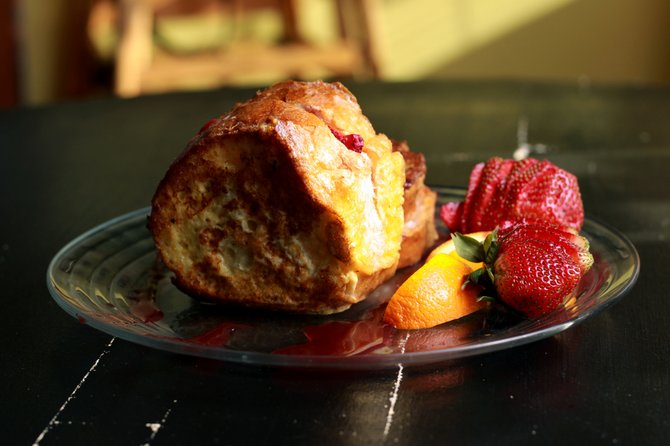 Baldwinsville — Fresh, simple, awesome. These are the elements that have made Canal Walk Café a popular destination for residents and visitors alike. That, and owner Dawn Custer's culinary expertise.
"I love food – I think food is the last great challenge," Custer said.
From each client, daily specials and every menu item, Custer constantly takes a fresh look at every aspect of her Baldwinsville business, which includes a catering service and a café serving breakfast and lunch.
With tables and chairs that could have come from anyone's kitchen, the restaurant gives the feel of being at home. And the décor enhances that same cozy atmosphere.
"We have a ton of old eclectic things for people to look at here," Custer said, adding she supports local artists by displaying their work on her walls. The café is also family friendly featuring a little desk, blackboards, books and toys for visiting children.
While the décor sets customers at ease, it's the food that completes the experience and it's a fresh, uncomplicated process. Custer arrives daily at 5:30 a.m. to set up for breakfast. She makes one or two fresh soups for the day, as well as roasting chickens and smoking turkeys fresh as needed. Before any preparations are made, however, the weather has to be considered.
"I check the weather to determine what we're doing for the day," she said, explaining if it's cold outside, she'll serve something like apple oat walnut pancakes, something really hearty; and if it's a sunny day, she'll serve fresh tomato bruschetta omelets. This, of course, all depends on the fresh ingredients available as very few canned goods are used at Canal Walk Café. In fact, during the warmer months, the café will receive fresh produce every day.
"My produce guy tells me we go through more basil than most of his Italian restaurants," Custer said.
(Continued on Next Page)
Prev Next
Vote on this Story by clicking on the Icon