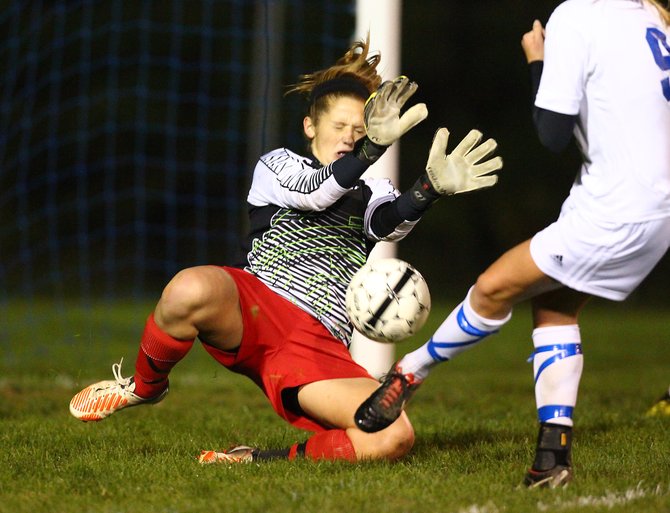 North Syracuse — Over and over again, Baldwinsville girls soccer goalkeeper Jaclyn Hingre found herself staring at Cicero-North Syracuse's Hanna Haven, possessing the ball close to the net, ready to put the Northstars on the board in Tuesday night's game at Archie Hall Stadium.
Every single time, Hingre got her hands on the ball, a spectacular effort that, all by itself, pushed the Bees past C-NS 1-0, a key victory to restore B'ville's confidence less than a week after a 2-0 loss to Liverpool.
Both teams came into the game entered in the state rankings -the Bees at the no. 16 spot following the Liverpool defeat, the Northstars at no. 22, sporting its own 11-2 record despite starting just three seniors.
They spent the first 20 minutes of this game in a cautious mode, rarely challenging each other. But after C-NS's Stephanie Liberati made a sustained run to the net and pushed a close, running shot wide, the action picked up on both ends.
In particular, Liberati and her fellow forward, Haven, would find open space behind the Bees' defenders and find their way toward Hingre on a regular basis.
But Hingre was ready. The sophomore goalie stopped Haven on consecutive point-blank chances in the 28th minute, ranging out of the net to meet the shot before it slipped past her.
Several more chances on both ends followed for the rest of the half. Just 1:54 before the break, Emma Firenze, working down the left side, crossed to the middle, where Cassidy Bruen settled the ball and flicked it past C-NS goalie Alyssa Jim to put her side in front.
Now it was the Bees' task to protect that one-goal margin. Despite all of the defenders' work, Liberati and Haven kept firing away. In the 58th minute, Liberati crushed a shot off the left post that went straight to Haven, who again shot - and again got stopped by Hingre.
Other than a free kick that Jada Sargeant hit off the crossbar, the Bees rarely had opportunities to get an insurance goal, so it was up to Hingre. With 9:45 left, Haven had one more great shot, and again Hingre smothered it.
When it all was done, Hingre had recorded 19 saves, 15 more than Jim, and the Bees felt a lot better about the ability to survive a close playoff contest, should that happen.
Vote on this Story by clicking on the Icon