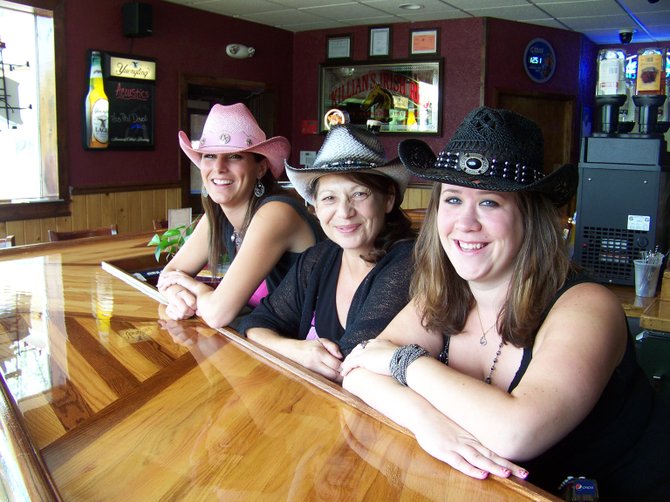 Baldwinsville — Jonah Dombroski has turned a nostalgic tavern into a new, country-themed hot spot.
Timber Tavern is a new full service bar located on Route 48 near the southern edge of Van Buren. In true country-fashion, the bar will begin offering a mechanical bull for patrons to ride on Friday nights starting this month. While the bull is sure to bring in a crowd, Timber Tavern also features traditional activities such as pool tables, dart boards and games including a boxing machine.
"The boxer machine is very popular," said Cheryl Dombroski, Jonah's stepmother.
There is also a stand of cowboy hats for patrons to borrow or purchase to get into full country fashion.
Formerly known as Kowalski's, Timber Tavern has been renovated to reflect a brighter, warmer atmosphere.
"We had hopes that Gerry would see her establishment reopen, but she became sick," Cheryl said of the former owner, Gerry Kowalski, who passed away earlier this year.
"When Mrs. Kowalski passed away, she had a whole crowd of people in here sharing stories," added Timber Tavern's Melissa Hennessey.
The tavern draws a lot of former Kowalski clientele as well as people of all ages from all over the county, Hennessey added.
"People are making new memories while sharing old ones," she said. "We have a very warm atmosphere, a good mix of everyone. We want people to visit, feel comfortable and welcome."
While Jonah kept the shape of the old bar, he got rid of the storage racks above the bar, a move that really brightened the place up. New bathrooms, a new patio and landscaping give Timber Tavern a modern look and the former motel rooms are now efficiency apartments, which were quickly rented out once renovations were complete. "They were rented out before the bar was open," Hennessey said.
In addition to the bar, there is a banquet room, which can accommodate up to 100 people. It is available to reserve for $100 per evening with an additional $50 deposit. The room features private bathrooms, which have also been renovated, and patrons can choose to bring their own food or have the event catered; all alcoholic beverages must be purchased at the bar.
(Continued on Next Page)
Prev Next
Vote on this Story by clicking on the Icon