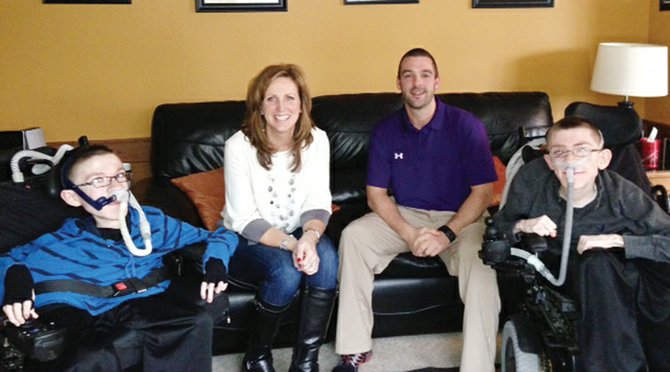 Baldwinsville — Susan Bertrand and Bryan Morgan are once again delivering inspiration to teens.
In 2010, Bertrand, founder of Maureen's Hope Foundation and the Baldwinsville-based organization's Youth Club, and Morgan, of Dynamic Health and Fitness in Clay, coordinated an event titled "Live Your Life to the Fullest." With a whole new group of high school students three years later, the duo decided now was a good time to bring the event back with a new name, The Power of Pizza.
"Our last event was a big success and offered a high-energy evening of inspiration for our youth," Bertrand said. "The high school and college years can be such a busy time for students with academics, athletics and work that I want this to be an evening for them to take time for themselves...a little food for the soul. It is a wonderful way to start off the New Year feeling inspired."
Held from 6 to 7:30 p.m. Sunday, Feb. 10, at the Aspen House in Radisson, the event is open to students in eighth grade through college. Morgan will be joined by guest speaker Michael Mort, 21, for the presentation. A Liverpool High School graduate, Mort has lived his life with Duchenne's Muscular Dystrophy. Mort's 18-year-old brother, Andy, who is passionate about music and has his own business, ADX DJ Service, has also lived his life with Duchenne's MD, and will incorporate music into the inspirational program.
"Michael and Andy have handled adversity in their life with such a positive spirit and outlook," Bertrand said. "The students will be able to relate to Michael, and I think his story will offer them some meaningful insight as they go through their day-to-day experiences."
Mort and Morgan put together a 90-minute, interactive and thought-provoking presentation.
"The presenters will share their message about living your best life now," Bertrand said. "And yes, pizza will be served!"
(Continued on Next Page)
Prev Next
Vote on this Story by clicking on the Icon