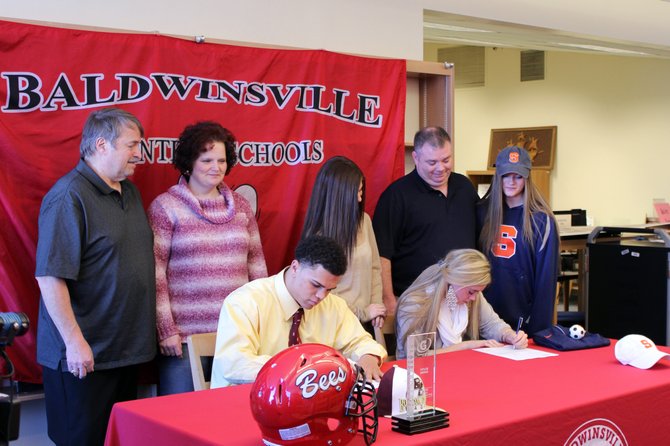 Baldwinsville — For a long time, speculation had centered on whether Tyler Rouse, Baldwinsville's record-setting senior tailback, would make his way to an elite college football program.
That speculation ended Tuesday when it was learned that Rouse would head to Boston College, signing his letter of intent a day later in a ceremony at the Baker High School library alongside Emma Firenze, who made her signing at Syracuse University for soccer official.
In going to SU, Firenze will join her older sister, Jackie, who just completed her freshman season for the Orange. Emma and Jackie were teammates on B'ville teams that won Section III Class AA titles in both 2008 and 2010.
Not until last weekend did Boston College make a formal offer. Without it, said Bees head coach Carl Sanfilippo, Rouse was likely headed for a prep school for 2013-14 until a program similar to BC's stature would reach out to him.
Just 5-foot-8 and 200 pounds, Rouse emerged as a star in 2010, his sophomore year, where he led B'ville to its second consecutive Section III Class AA title and a berth in the state semifinals.
After a strong junior campaign, Rouse, in 2012, topped himself on an individual basis, carrying the Bees to the sectional finals as he got the ball 333 times for 2,977 yards, amassing 45 touchdowns.
That earned Rouse a stream of accolades, none bigger than the Gatorade New York State Player of the Year award, the first Section III player to earn that honor since Onondaga's Latavius Murray (who went on to a fine college career at Central Florida) in 2007.
In going to BC, Rouse will join up with the Eagles' new head coach, Steve Addazio, who actively recruited Rouse while he was at his previous coaching position at Temple.
Just as intriguing to local football fans is the fact that Rouse will be part of the Atlantic Coast Conference, just as Syracuse University joins the ACC.
Both the Eagles and Orange are in that league's Atlantic division and will meet in the 2013 regular season at the Carrier Dome at a date and time yet to be determined.
Vote on this Story by clicking on the Icon