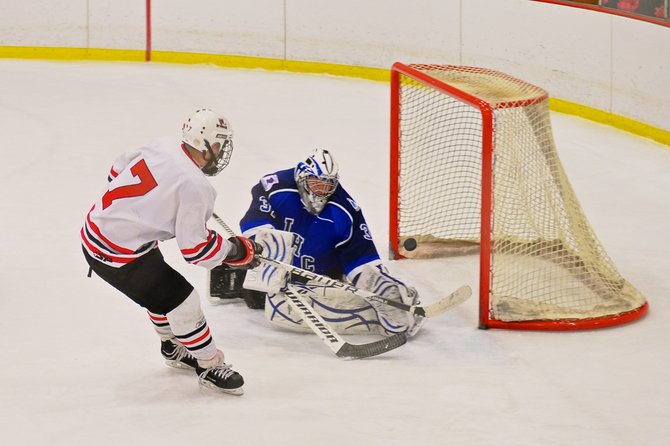 Since the start of the new year, the Baldwinsville ice hockey team had shown the look of a newer, more efficient and more effective model, and four consecutive victories reinforced that point.
Only when it traveled to Kennedy Arena last Tuesday night did the Bees cool off, running into state Division I no. 4-ranked Rome Free Academy, who prevailed by a score of 4-2.
This was a test of resilience for RFA, too. After starting 12-0 and rising to the no. 2 spot in the state rankings, the Black Knights took its first loss of the season on Jan. 12, falling to Massena 4-3 in overtime in the finals of the Red Raiders' own tournament.
With that defeat, RFA slipped to no. 4 in the state poll as Cicero-North Syracuse, with its own 12-game win streak, claimed the top spot for the first time in the program's history.
Properly motivated, and knowing how much B'ville had improved since its mid-season roster changes, RFA jumped on the Bees and led 2-0 after what proved to be a pivotal first period.
From that point on, B'ville would play on even terms. Garth Gray and Garrett Gray would both score goals, with Parker Ferrigan and Matt Zandri earning assists.
Each time, though, the Black Knights would answer, never trailing as it overcame Josh Pinard's 23 saves in the net. Keegan Richie, with two goals, and Tyler Williams, with three assists, paced the RFA attack.
After this, the Bees returned to Lysander to meet Watertown IHC Friday in its first home game in two weeks.
Given that, and given that it was Senior Night, B'ville wanted to put on a good performance – and did so, easily dispatching the Cavaliers in a 6-0 shutout.
Spending a large portion of the game in IHC's end, the Bees recorded 67 shots. Only the remarkable work of Cavaliers goalie Grant Chamberlain kept it from a more lopsided margin.
(Continued on Next Page)
Prev Next
Vote on this Story by clicking on the Icon