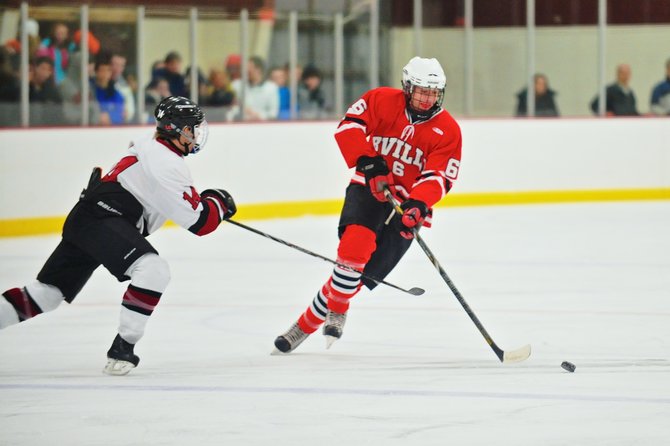 SYRACUSE — The raucous, postgame locker-room cheering could be heard all the way out in the Meachem Rink lobby.
Without their captain, without their leading scorer, the Baldwinsville ice hockey team rallied back from a third-period deficit to beat the Syracuse Cougars 4-3 Thursday night and all but secure a berth in the Section III Division I playoffs.
"Boy, to win a game like that against a quality opponent like this in their building, I feel like it gives us the confidence that we can play with anyone," Bees head coach Mark Lloyd said. "We don't care if it's RFA, C-NS, bring 'em on. We'll play 'em. We don't care."
Baldwinsville ran out to a 2-0 lead 4:16 into the game before senior forward Parker Ferrigan was issued a major disqualification — warranting an ejection, one-game suspension and five-minute penalty – for a two-handed check to the head of Cougars forward Liam Barry.
Syracuse scored once during its man-up advantage and netted two more goals in the second period to take a 3-2 lead into the third. But B'ville forward Matt Zandri scored his second goal of the game to equalize 2:55 into the final frame, and forward Matt Abbott tallied the game-winner with 6:22 left.
"I just wanted to get it into the net," said Abbott, a sophomore. "Our whole line crashed the net and it went in."
Skating back up the ice, Abbott was mauled by a swarm of red jerseys and serenaded with head pats and shoulder shoves. It was a memorable evening for Abbott, who not only finished off the scoring, he also started it.
After Abbott pulled the puck off the boards in the defensive zone, he found Ronnie May slicing up the middle of the rink. May poked the puck ahead, past the outstretched stick of Syracuse's Jared Ristoff, and with one quick touch to settle, Truman Strodel slipped it by Cougars goaltender Jim Albright, who finished with 29 saves.
(Continued on Next Page)
Prev Next
Vote on this Story by clicking on the Icon