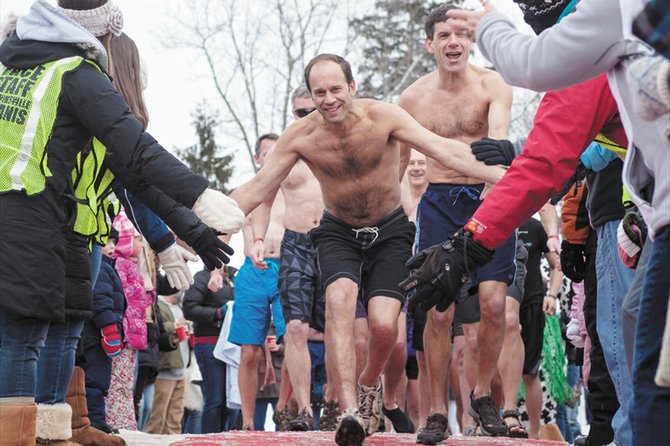 Baldwinsville — The Baldwinsville Big Chill drew more than 150 plungers, who dove into the chilly Seneca River last Saturday, and the entire event raised roughly $38,000, which will benefit the Cystic Fibrosis Foundation's Central NY Chapter and the Ronald McDonald House Charities of Central NY, as well as the Greater Baldwinsville Chamber of Commerce.
Photo Gallery
B'ville Big Chill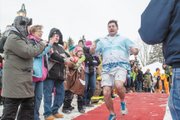 Baldwinsville celebrated the winter season this past Friday and Saturday with its Big Chill event, which drew more than 150 plungers and raised $38,000. Check out PAC-B TV for a video of Big Chill 2013 (visit pacbtv.org for the schedule) or click on this Youtube link: http://www.youtube.com/watch?v=_U5ZZCV_rIQ
"We had a great turnout," said Cristina Jardine, chairman of the Big Chill Planning Committee. "Each year the event gets bigger and better. We couldn't do it without our sponsors."
Jardine thanked the following businesses and organizations for their contributions:
"Baldwinsville Heating and Cooling, Pathfinder Bank, TOPS Friendly Markets, La Tresse by Renee Salon, Nobles Tire City and Empower FCU as well as our community supporters, especially the Village of Baldwinsville, the Baldwinsville Fire Department, Greater Baldwinsville Ambulance Corps, the Baldwinsville Volunteer Center, the NY State Dive Team and all the businesses who donate to the event," she said.
A Best in Bowl competition was also held Saturday with the following results:
Judge's Choice:
1) Three-way tie - Tabatha's Family Tree, Sammy Malone's and Silver Fox
2) Big Mama's
Dessert: Tabatha's Family Tree
People's Choice
1) Sammy Malone's
2) Sud's Factory River Grill
Most Unique
1) Suds Factory River Grill
2) Sammy Malone's
Dessert
1) Yummies Cheesecakes
2) Tie: Tabatha's Family Tree and Canal Walk Cafe
Check out PAC-B TV this evening at 7 p.m. for a video of Big Chill 2013 or visit pacbtv.org for the schedule for future showings of the video. Here's a sneak peak on Youtube: http://www.youtube.com/watch?v=_U5ZZCV_rIQ
Vote on this Story by clicking on the Icon