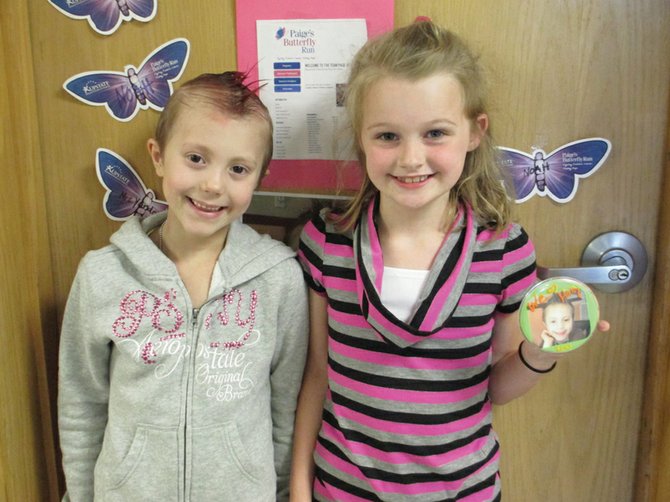 Second-grader Hally Krolik loves to draw and sing, and has even written four books, two of which are titled, "Grandma Always Lets Me" and "Allie's New Dog". She has a contagious smile that lights up a room and an easy-going personality to match; her friends delight in her company.
Hally Krolik also has cancer.
Last week, she returned to school after finishing two weeks of radiation. The little girl who sports an adorable pink mohawk didn't miss a beat. "You'd never know it—she's bouncing off the walls!" said her Reynolds Elementary School teacher, Laurie Ravas. Teacher assistant Patti Thompson agreed. "She's a trooper," she said.
On March 1, Hally was diagnosed with Stage IV cancer; a Wilm's tumor on her right kidney that had begun spreading upwards towards her lungs. She began chemotherapy shortly after her first surgery, which was to biopsy the tumor and place a port above her heart to receive treatment. It was hoped that after eight weeks of chemo, the tumor would shrink, minimizing the surgical risk of removing both the tumor and her kidney. However, the opposite transpired and the tumor had instead grown in size.
When doctors performed the seven-hour—and ultimately successful—surgery, they also found the tumor had spread to her liver, which was not found in previous CT scans. Since then, she has completed a 14-day radiation cycle and has resumed an aggressive chemo schedule. All of her care has been through Upstate University Hospital.
"My husband Frank and I have been nothing short of amazed with the hospital and the lengths they go to keep all the children in their care smiling," said Hally's mom, Monica Krolik. "Every single doctor, nurse and surgeon we have worked with has been nothing but caring, loving, passionate individuals."
Krolik describes her 7-year-old daughter's personality as one that cannot be summed up easily. "She is a dynamic little girl who is smart, determined, fun-loving, sweet, a little shy at first, then very outgoing," she said. "Most of all, she is genuine and has a heart of gold. She makes friends with kids and grown-ups alike and once you are her friend she will do anything in her power to make you smile."
(Continued on Next Page)
Prev Next
Vote on this Story by clicking on the Icon