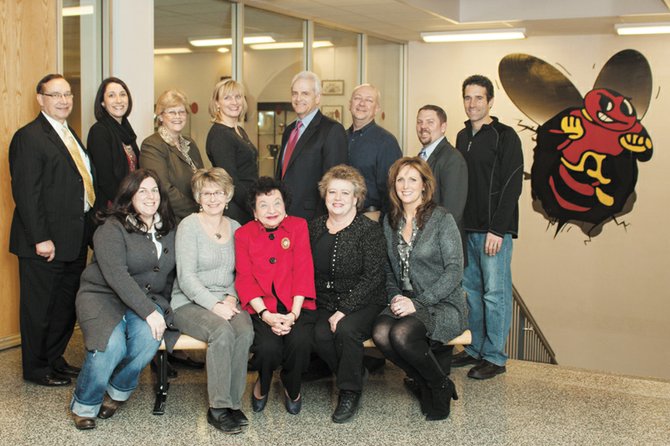 Baldwinsville — Baldwinsville phones will be ringing the next two weekends and for good reasons – to support advanced education for youth in our community.
The Baldwinsville Community Scholarship Foundation's annual Dollars for Scholars Phone-a-thon will take place from 6 to 8 p.m. Sunday, March 3, and Sunday, March 10, when students from Baker High School will gather in the school cafeteria to call area residents and solicit donations. Last year, the students raised a total of $36,875.
"We encourage folks in the community to please answer their phones on those evenings and consider a donation," said BCSF member Susand Bertrand.
For nearly 40 years, the BCSF has provided scholarships to the graduating class of Baker High School starting in 1974 when a single $500 scholarship was awarded. Since then, the organization has given about 2,300 scholarships totaling more than $2 million.
"Roughly half of that $2 million has been awarded in the last 10 years," said BCSF member Mark Baker.
Last year the organization awarded 88 scholarships totaling $96,200, a portion of which was funded through the annual phone-a-thon.
"The [Dollars for Scholars] fundraiser enables us to pay between a third and half of the awards we make each year," Baker said. "In addition, the phone-a-thon provides us with visibility in the community and the opportunity to engage other volunteers in our fundraising process."
All donations directly support scholarships and, as a 501©3 organization, contributions are tax deductible.
"Contributions can be small, one-time or given on a continuing basis," Bertrand said, noting that an endowed scholarship can be created with a minimum donation of $20,000, which will provide a permanent scholarship. "Any donation, no matter how small, is appreciated and contributes to our students' futures."
According to BCSF member Sandy Lamb, the students "are honored to receive the award especially those who receive a memorial scholarship from a family at Moving Up Day."
(Continued on Next Page)
Prev Next
Vote on this Story by clicking on the Icon