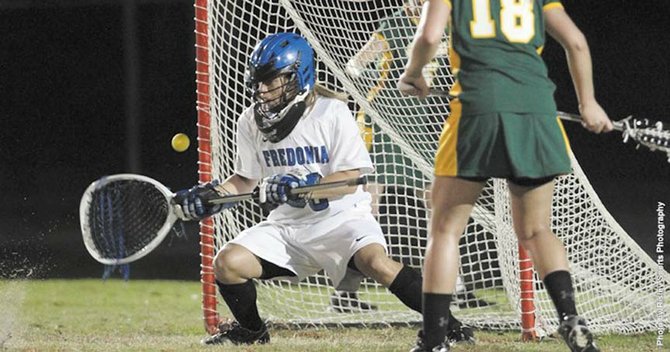 Baldwinsville — Fredonia State senior student-athlete Casey Chiesa, of Baldwinsville, was awarded an NCAA postgraduate scholarship for women who plan on seeking a career in college athletics.
Chiesa, a four-year member of the Blue Devil women's lacrosse team, is one of 13 recipients of a $6,000 NCAA Women's Enhancement Postgraduate Scholarship. She was the only NCAA Division III student-athlete chosen; the other 12 awardees attend NCAA Division I schools.
In addition to her athletics, Chiesa is a dean's list exercise science major, is both a SUNYAC All-Academic and Commissioner's List recipient and has served as a student intern in the Fredonia State Athletic Training Department. She is the daughter of Christine and Dan Chiesa.
"I was really surprised," Chiesa said. "I wouldn't have had this opportunity had I been at another school. Being at Fredonia has led me in the right direction. The people I've been around have helped me realize what I want to do."
"Casey is a well-deserving candidate for such a competitive award," said Chris Case, head coach of women's lacrosse and women's soccer. "She is a person dedicated to her sport and studies and her success in both is no surprise. In addition, she has been an excellent role model and just a pure pleasure to be around."
Chiesa plans on attending Tennessee-Chattanooga to pursue a Master's degree in athletic training.
A graduate of Baker High School, Chiesa has served as the Blue Devils' starting goalkeeper since her freshman year. She has a 32-16-0 career record with 416 saves. Her win total is already a school record, while her career saves total is No. 2 all-time.
Chiesa also set the single-season school record for wins in 2012 when she and the Blue Devils posted a 14-5 record and made their first NCAA women's lacrosse tournament appearance. She earned First Team All SUNYAC and Second Team Empire Region awards.
Last fall, Chiesa was added to the women's soccer roster as an emergency goalkeeper after injuries sidelined the team's two goalkeepers. She did not appear in a game.
This story was originally published online at fredoniabluedevils.com.
Vote on this Story by clicking on the Icon