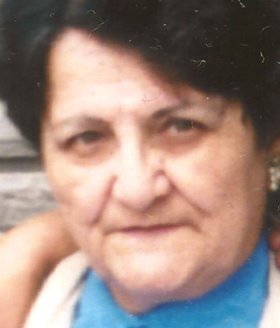 Elizabeth Laraby
unknown - June 4, 2012
Elizabeth (Betty) Ann Laraby, 84, resident of The Cunningham Skilled Nursing Care Facility in Syracuse, went home to be with her Lord on Monday, June 4, 2012.
Betty was born in Canton, NY on Oct. 9, 1927, to the late Joseph and Pearl (White) LaComb. She was the wife of Clarence James Laraby who preceded her in death in 1997, She was also preceded in death by her grandchildren Shannon and Shad McLennan and her brothers: James, Harold and Mark LaComb and sisters: Leila LaComb Gilbo Murray, Dorothy LaComb Madore, and Helen LaComb Phillips Caringi. Two brothers: Frederick and Robert LaComb remain living in New York State.
She is survived by three daughters: Carol McLennan (Donald) of McLeansville, N.C., Marsha Painter (Al) of Fulton, and Angela Stevens (Mark) of Baldwinsville; grandchildren, Burt Johnson, Brian Johnson, Brenda Johnson, Matthew Gardner, David Riley, Emily Stevens, Mark Stevens, Ashlee Stevens, Kyle Stevens, Chelsea Stevens and several great-grandchildren and very special nieces, nephews and their spouses she also adored.
Betty was a member of St. Stephen's Catholic Church's Altar and Rosary Society in Phoenix for several years. She was a New York Yankees fan for life and enjoyed athletics and playing pinochle in her younger days. Betty was also a country music fan and enjoyed listening to the genre icons throughout her entire life. She also supported many local charity fundraisers whenever the opportunity arose. Despite her meager income at times, Betty also sponsored impoverished international children for many decades.
She entered the business world full-time in 1975 working as the manager at Visco's Sub Shop in Phoenix, NY until 1979 and started immediately thereafter at Eagle Comtronics in Liverpool, rom 1979 until her retirement in 2000. She also served for many years as volunteer manager of The Bernardine Assisted Living Center's Country Store in Syracuse when she resided there.
Graveside services: 2 p.m. on Thursday, June 7, at the Phoenix Rural Cemetery in Phoenix. In lieu of flowers, memorial gifts can be sent in her name to St. Jude Children's Research Hospital in Memphis, TN or Catholic Social Services in local parishes. Prayers for the repose of her eternal soul are requested.