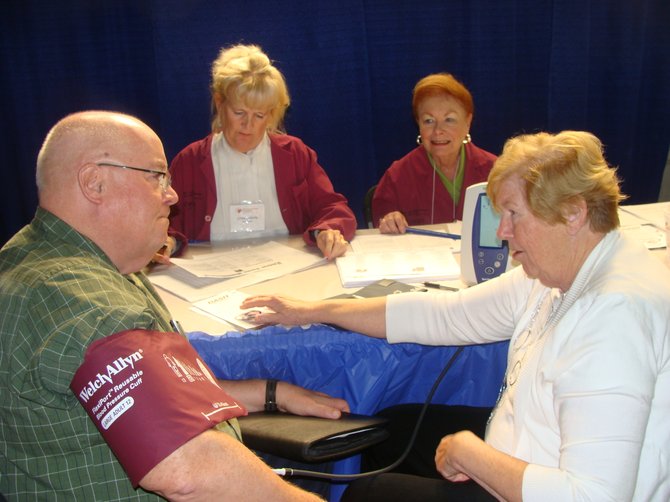 Mary Kay Gillis, RN, MS and director of clinical programs for the National Kidney Foundation of Central New York, seated at right, takes the blood pressure of John M. Ferguson of Minoa Thursday during the eighth annual Senior Fair, organized by State Sen. John A. DeFrancisco. Many volunteers were on hand to take the blood pressures of attendees, sponsored by the National Kidney Foundation. Gillis, who is retired Sept. 28 after 57 years in nursing, said "This is what I love best about the fair, the one-on-one interaction with people." She lives on Otisco Lake and has done volunteer work for the Kidney Foundation since 2000.
Stories this photo appears in:

The Senior Fair, which took place this year on Sept. 27 in the Horticultural Building at the New York State Fairgrounds, was originated back in 2004 when State Sen. John DeFrancisco saw a need to bring seniors together, not just for fun and entertainment, because there is plenty of that, but for all the information and help they might be seeking from the people and the organizations who routinely address seniors' special interests.